Harris Fragrances LLC ®
Harris Fragrances, LLC located in Los Angeles, California designs and supplies fragrances and essential oils to product marketers in the personal care, fine fragrance, soap, detergent, household and air care industries. Neal Harris, a fragrance industry veteran with over 32 years of hands ("nose") on experience in sales marketing and the fragrance industry has combined forces with the highly qualified team at Custom Essence to form Harris Fragrances, LLC.
Established and emerging companies can count on Harris for progressive fragrance design, market trend insight, product development, marketing consultation and thorough technical and regulatory support. This innovative team is rapidly earning the reputation as the "best boutique house" in the industry as it supports the fragrance needs of brand marketers throughout the world.
Harris Fragrances constantly strives to add economic and community value by establishing long-term and mutually beneficial relationships with customers while giving back and supporting the communities in which we live.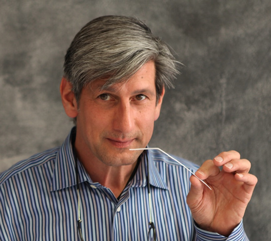 Neal Harris
Founder of Harris Fragrances, LLC and Scentevents®
---
E-mail: Neal@harrisfragrances.com
Phone: 818 519 7697
Neal has over 32 years of experience in the creative perfumery/product development process and is one of the most well respected professionals in the fragrance industry. He is responsible for design, development and supply of fragrances for many leading and up-and-coming brands in the personal care, household, air care, and perfume industries. He is the author and/or co-author of numerous patents and trademarks for innovative products currently in the market and/or in the pipeline for future launch.
Neal is the founder and President of Harris Fragrances, LLC, and Scentevents®. Scentevents develops and provides scent marketing and ambiance programs and systems for consumer products, corporate promotions and hospitality venues along with designing Scentematography® services for special events, entertainment and fragrance related initiatives.
In addition to his role as CEO of Harris Fragrances, LLC and Scentevents®, he is an active community and business leader including service to organizations including the Junior Blind and the Fashion Institute of Design and Merchandising(FIDM). Neal loves to share his knowledge and passion of the fragrance industry through educational opportunities at schools, colleges and seminars. He has been a guest speaker at USC, Loyola Marymount University, FIDM, Beauty Industry West, The Scent Marketing Institute, Scent World, Sniffapalooza, The Special Event and numerous organizations and institutions.